Frequently Asked Questions
What Payment Methods do you accept?
---
For now - we accept payments via PayPal only. You can still use major credit cards via PayPal!
---
What is your Store Policy?
---
Due to most of our products being custom packages or rare items in Korea - there are no refunds or exchanges unless the product is faulty. If you have an issue with what you have ordered upon receiving it, please email us at info@inspiremekorea.com with photos of what you received and a description and we will be absolutely happy to help.
---
Where do you ship to?
---
We ship to these countries via standard EMS (Express Mail Service from Korea) Live outside of these countries? We will send your package via Premium EMS to these countries. Tracking is available for both these services.
---
What happens after you ship my order?
---
You will receive an email with an EMS tracking number shortly after dispatch of your order. If your tracking number starts with 'EB', it was sent via Standard Express Mail Service (EMS) you can track it on this website. If your tracking number starts with 'UP', it was sent via Premium EMS and you can track it on this website. Please allow up to 72 hours for this tracking number to show any results. Shipping usually takes 1-2 weeks to arrive to US and Europe but it may take longer due to COVID so please allow up to 1 month for your order to arrive. Thank you for your patience!
---
What happens if my package doesn't arrive?
---
After your package has left Korea, you can track it with your local courier.
If you have a problem with delivery - please check here for local country call centre number - it would be best to call them and find out about your package directly. Unfortunately after we have dispatched a package, there is very little we can do to control where it is other than tracing it with the tracking number you will be provided with and it's best to speak directly with your country's courier centre. If in the rare case that your package is lost, we will do our best to compensate you - please email us at info@inspiremekorea.com if you suspect that is the case.
---
What about packaging and the environment?
---
We are trying to be kinder to the environment - since there is such a convenient culture in Korea where products are ordered online often, many box packaging materials get discarded after unboxing. We re-use, recycle and up-cycle this packaging as much as possible when making your packages to help not generate more waste. So please do excuse the appearance of your package if it's looking a little less than perfect!
---
What happens after I receive my box?
---
We just hope you love your box lovingly curated by us (Diana and Alice) from Korea just for you! We'd love to see your unboxing on social media so go ahead and tag us on @inspiremekorea on Instagram! If you feel that we did a good job - you can leave us a tip at your discretion here. Thank you so much! 감사합니다 ~
---
How is my package prepared?
---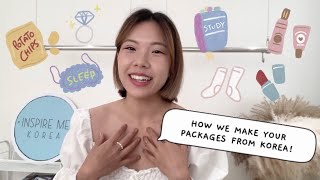 If you are curious about how your package from Korea was prepared, especially custom made boxes, you can watch this video with Diana explaining how we made your box!
---
How much is shipping?
---
Shipping is $25 flat rate for any order of any size for either Standard or Premium Tracked EMS from Korea depending on where you live. Please check 'Where do we ship to?' for more details! Unfortunately customs fees may be applicable depending on your country and it's rules upon the arrival of your package to your countries borders - these fees are outside of our control and not included in shipping.
---
I have a Wholesale Enquiry
---
Are you looking to source products in Korea for business purposes? We welcome wholesale enquiries - please email us at info@inspiremekorea.com and we'll be in touch.
---
What currency do you accept?
---
We accept US dollars only via Paypal. If you are using a bank card in Paypal that is not in US dollars that totally fine, your bank will just convert the currency at the most recent exchange rate.
---
---